What Are Invisible Braces?
---
Invisible braces may seem like something out of a sci-fi movie, but they're a real and effective way to straighten your teeth without traditional braces. Sapphire Family Dentistry offers invisible teeth aligners to our patients in Richmond, and surrounding areas including Aliana! Sapphire Clear Smiles are innovative, customized clear braces that give you straight teeth without the metal. We understand many patients don't want to deal with traditional metal braces' appearance and complex maintenance routine. We also offer the popular Invisalign® clear braces, but they are out of some patients' price range. Our invisible braces give you the same discreet teeth straightening benefits at a lower price. Contact us to learn more about our exclusive Sapphire Clear Smiles aligners.
Benefits Of Invisible Braces
---
Clear aligners are a popular choice for patients of all ages. The most significant benefits of clear braces include:
Boost in Aesthetics –Clear aligners allow patients to straighten teeth without metal brackets for a nearly invisible look.
Removable –The removable aligners let patients eat whatever they want as long as they remove the aligners.
Improved Comfort –Clear aligners offer a customized fit with smooth edges.
Improved Oral Hygiene –Traditional braces require extensive brushing and flossing to remove food particles, while removable aligners offer an easy solution.
Increased Safety –Patients don't need to worry about breaking metal wires and brackets that can easily puncture soft tissue inside the mouth.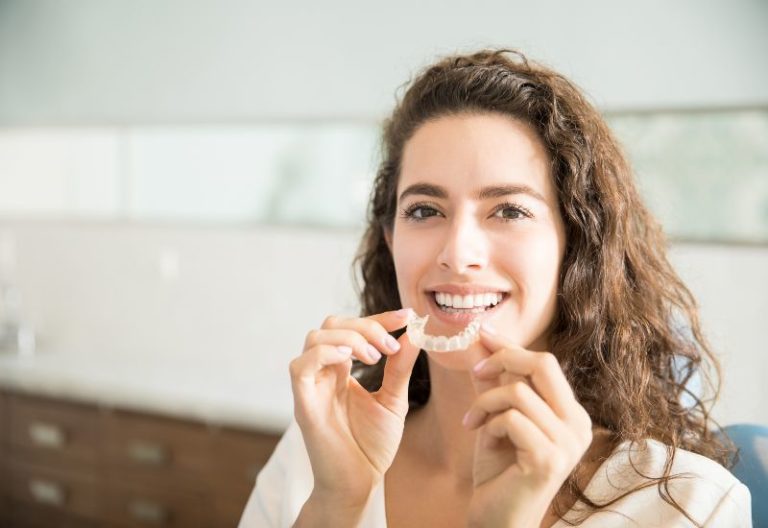 Why Invisible Braces Are Used
---
Invisible braces are typically used to address traditional orthodontic issues. We treat adults and teenagers with clear braces but do not recommend them when baby teeth remain in the mouth. We'll help determine if you're the perfect candidate for invisible braces. The most common things invisible braces treat include:
– Crowded teeth
– Misaligned teeth
– Overbite