What Is Cosmetic Dentistry?
---
Cosmetic dentistry services address cracks, gaps, chips, and stains on your teeth. Sapphire Family Dentistry offers our Richmond, TX patient's family cosmetic dental procedures to enhance the look and feel of your teeth. Cosmetic dentistry offers positive lasting effects on your smile and overall appearance. We'll help you find the perfect cosmetic dentistry service to meet your smile goals. Contact our dental team today to make an appointment.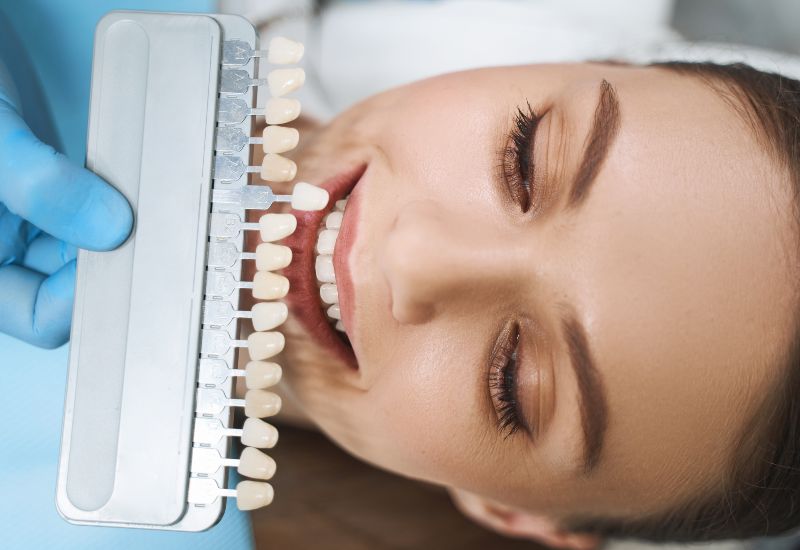 Cosmetic Dentistry Services
---
Sapphire Family Dentistry offers multiple cosmetic dental services to our patients, including:
Clear Aligners – Our clean aligners and invisible braces offer an option to traditional braces to straighten your teeth discreetly. We offer Sapphire Clear Smiles, innovative and customized clear aligners, to straighten your smile.
Smile Makeover – Our personalized and transformative smile makeovers repair missing or damaged teeth. We create the perfect treatment plan to restore your confidence with a bright smile.
Veneers & Lumineers – We offer porcelain veneers to repair gaps, chips, gaps, discoloration, or slightly crooked teeth. Dental lumineers are more transparent than veneers, making them a perfect choice for severely discolored teeth.
Invisalign® – Invisalign® is a discreet option for traditional braces. Our dentists are certified to provide the Invisalign® straightening power with durable clear aligners.
Teeth Whitening – Professional teeth whitening treatments subtly brighten stained teeth for lasting effects. Our teeth whitening treatments can brighten teeth shades lighter in one visit.
Why You May Need Cosmetic Dentistry?
---
The most common reasons patients choose cosmetic dentistry include:
Discolored Teeth – If your teeth are dull or stained, we'll help you find a customized treatment to brighten your smile.
Cracked or Chipped Teeth – Veneers are often a fantastic solution for cracked or chipped teeth to restore their shape.
Gaps Between Teeth – Dental implants look and feel like natural teeth, offering a solution for gaps between teeth.
Chronic Headaches – Misaligned teeth often cause an abnormal bite that can lead to jaw pain and headaches.
Confidence – If you try to hide your smile, it's time to give it a boost with cosmetic dentistry.
Benefits Of Cosmetic Dentistry
---
Cosmetic dentistry offers many benefits, including:
Improved Appearance – Cosmetic dentistry is an excellent solution for stained and discolored teeth, helping to boost a healthy and vibrant smile.
Improved Self-Confidence – If you're self-conscious about your smile, cosmetic dental procedures give you confidence in the look of your teeth.
Improved Oral Health – Decayed and cracked teeth often lead to oral health issues like periodontal problems and jaw pain.
Protection – Cosmetic dental treatments offer protection against further deterioration of teeth, gums, and bones.
Long-Lasting Effects – Cosmetic dental procedure results often last decades, helping to enhance your mouth and save money over time.