The Solution To Crooked Teeth Is Clear
---
The traditional way to have your crooked teeth aligned is metal braces. While these produce favorable results, their appearance, the complexity of maintenance, and the speech issues that sometimes accompany braces can make many people self-conscious. Some even avoid orthodontic treatment and learn to live with their crooked smiles. You don't have to choose between conventional braces or crooked teeth here, however, because we have a more discreet option. The Sapphire Family Dentistry team creates happy, straight smiles every day with Invisalign® in Richmond, TX.
Dr. Hoang Doan and Dr. Johnny Trinh, longtime friends, classmates, and colleagues, are both certified to provide Invisalign to our patients. This treatment provides the reliable straightening power of conventional braces, but without metal brackets and wires. Instead, Invisalign works with durable clear plastic aligners that are customized to fit you. No one will notice you're undergoing orthodontic treatment—they'll only see the dramatic results afterward. Learn more about the advantages of Invisalign with a personalized consultation. Video consultations are available! We can also tell you the advantages of our in-house option, Sapphire Clear Smiles, during our consultation.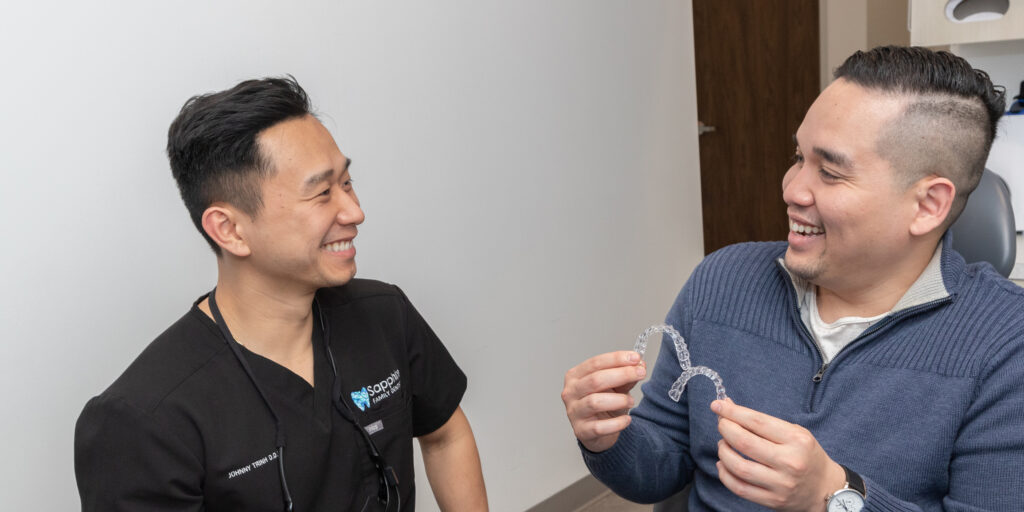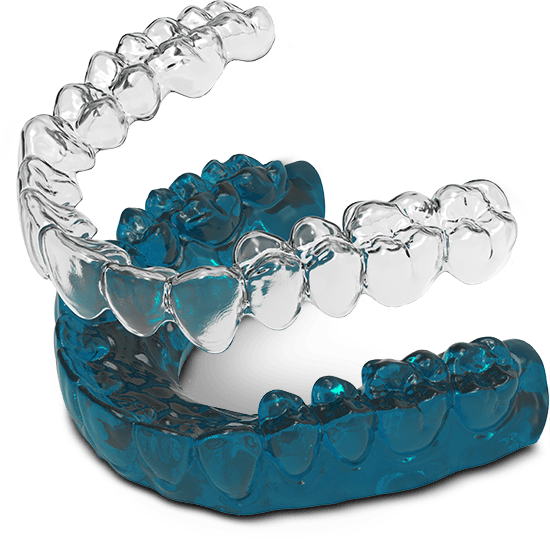 The Benefits Of Invisalign
---
Subtle, phased teeth straightening
Customized clear aligners
Unrestricted diet during treatment
Effortless removal and cleaning
A more comfortable, aligned bite
Improved self-confidence
About Those Clear Aligners
---
Invisalign clear braces are easy to use. You just slide them on over your teeth and leave them in for up to 22 hours a day. They'll stay in place, but are easy to remove when you're ready to eat or to clean your teeth. Unlike traditional metal braces, the aligners themselves don't require special maintenance, because there are no metal components for food to get stuck in, and you remove them for meals. You'll use a new set of aligners at regular intervals during your treatment. Each will progressively move your teeth until you have that straight, beautiful smile you desire! Crooked teeth can also cause bite issues, teeth grinding and clenching, and TMJ and jaw pain. Straight teeth make it possible for you to properly brush and floss your teeth. You'll discover that your oral hygiene routine will become easier and have better results. Similarly, aligned teeth will improve how your teeth fit together, helping to resolve functional problems associated with crooked teeth and a bad bite (malocclusion). Overall, Invisalign treatment from our experienced dentist in Richmond, TX will improve the health and function of your smile, in addition to providing natural smile aesthetics and a boost to your confidence!
Getting Started With Invisalign
---
Let's get started on that beautiful smile! Even if you've seen another dentist about Invisalign, come to us for a free second opinion, the best way to ensure you get high-quality, modern care. For us, that means using state-of-the-art equipment to assess the condition of your teeth. Our cone beam CT scanner captures 3D x-ray images from every possible angle, allowing us to see exactly what's happening with your teeth. Using our intraoral scanner, we can create digital impressions of your teeth that form the basis of your customized aligners. When you return to receive them, we'll make sure they fit just right for optimal smile aesthetics and function during treatment!
---