Quality Service From The Very First Visit
Dr. Hoang Doan and Dr. Johnny Trinh, longtime college classmates and close friends, founded Sapphire Family Dentistry to provide complete, high-end dental care for your whole family. We're a comprehensive dental practice with the training and equipment to expertly perform everything from cosmetic enhancements to root canals to dental implant placement and restoration—all in one convenient location. You may never have to visit another dental office in Richmond, TX again!

It's not just exceptional dental care that you'll find here. We look after your comfort in the waiting room with a complimentary coffee bar, plus other drinks and snacks. We even have an area dedicated to our littlest patients, complete with Netflix, iPads, a prize tower with a toy vending machine, a toothbrush and toothpaste selection area, and plush toys!
Why We Should Be Your Dental Office
1. Two skilled, caring doctors

2. Dental services for the entire family

3. Extended hours (Mon-Weds)
4. Waiting room and exam room amenities

5. Special play and learning area just for kids

6. Clean, modern, comfortable environment

7. Fully equipped and up-to-date exam rooms
Comprehensive, Convenient Dental Services.
At Sapphire Family Dentistry, we provide complete dental care for your entire family. That means you only need visit one office for routine dental exams, complex treatments from all the major dental specialties—periodontics, oral surgery, orthodontics—and everything in between. To make our high-end, technology-driven care available to you, we have extended hours, staying open until 7 p.m. three nights per week. If, for some reason, an office visit isn't convenient, we also offer virtual consultations. You won't get the same high-quality, comprehensive, and convenient care from any other dentist in Richmond, TX! We don't believe that your financial situation, location, or past dental experiences have to affect your future oral health, confidence, or quality of life! Are you in need of a dentist? You and your family are welcome here.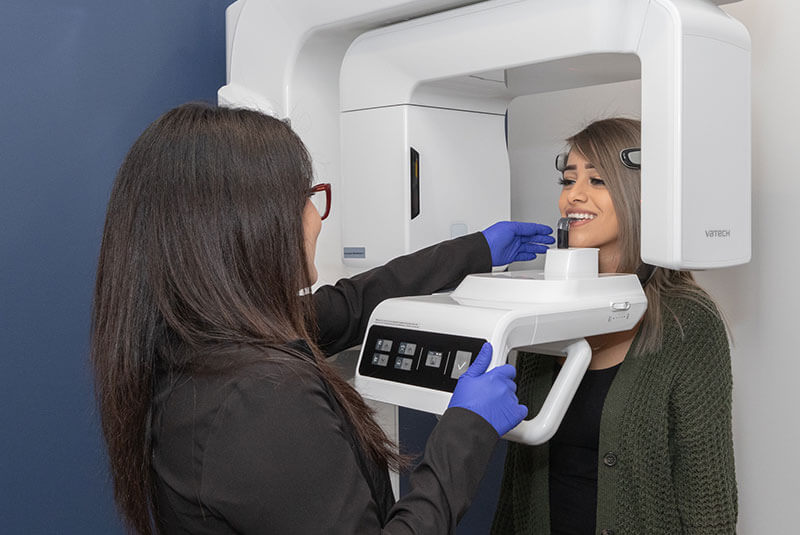 State-Of-The-Art Dental Technology Yields Better Service
Our team uses some of the top technology in dentistry for your care, making possible more accurate diagnoses, shorter treatment times, and other benefits. Our cone beam CT (CBCT) scanner gives us 3D x-ray views of your dental health from every possible angle, ensuring that we can identify the full extent of any issues you may experience. The scanning process is completely comfortable for you and takes just minutes to complete. The CBCT also operates with a fraction of the radiation of the conventional CT scanning equipment still used in many medical facilities, making it safer for you. We also have a handheld, compact intraoral scanner that enables us to scan your entire set of teeth in about a minute. We can use these scans as digital impressions to make restorations for you if you're having a damage tooth replaced with a crown or an entire tooth replaced with a dental implant. No more biting down on sticky putty for impressions! And if you want our Sapphire Clear Smiles to straighten your teeth instead of traditional metal braces, you might be happy to know that we create our own clear aligners in-house using a 3D printer. That gives us complete quality control over the process and means you don't have to wait weeks for an outside lab to deliver your aligners.