Find Care For All Here
---
Choosing the right family dentist can be difficult, if not frustrating. After all, you'd prefer not to have separate dentists for yourself, your teenagers, and your toddlers, and you want the best of care for everyone. That's why we've combined all the dental services our patients could need and want into one state-of-the-art family dentistry practice. To accommodate your busy schedule, we offer convenient hours—including extended hours several days a week—and schedule your family's visits back-to-back whenever possible to save you extra trips. Give your family a lifetime of healthy, beautiful smiles—come to Sapphire Family Dentistry in Richmond, TX!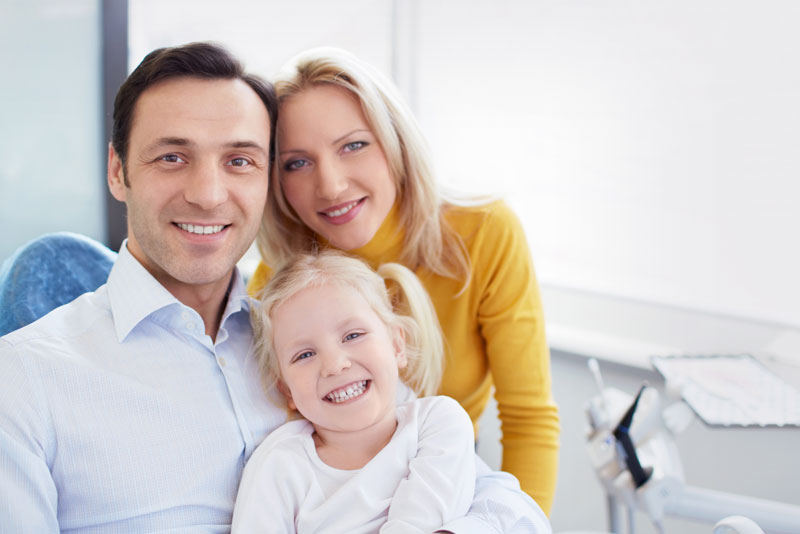 Personalized Family Dentistry Services
---
Preventive Dentistry
From teeth cleanings to x-rays and oral cancer screenings, you'll find all the essential preventive dentistry services you need right here. We tailor each visit to your unique needs and deliver care of the highest quality. We recommend that you have routine visits twice a year so that we can catch early signs of dental decay and disease and address them immediately.
Pediatric Dentistry
Dr. Hoang Doan and Dr. Johnny Trinh are skilled dentists and family men who understand you want the best care for your kids. It's our pleasure to help your children achieve and maintain proper oral health. We provide exams and cleanings, x-rays, dental sealants, fluoride treatment, and monitor the development of oral structures like the jaw and teeth. We encourage you to bring your children to see us early on to protect their health, help them develop good oral hygiene habits, and to acclimate them to dental care with a fear-free experience.
Crowns And Bridges
Whether you have a weakened or damaged tooth or are missing a tooth altogether, we can restore your dental function and aesthetics with cosmetic crowns and bridges. Crowns help repair a decayed tooth or reinforce one that's been treated with a root canal. Bridges, or rows of crowns attached to one another, "bridge" the gap created by missing teeth.
Cosmetic Dentistry
Improve the look of your smile and the way you feel about yourself with personalized cosmetic dentistry services. Using teeth whitening, porcelain veneers/Lumineers®, orthodontics, and more, we can make your smile look the way you want it to be seen!
Dentures
A cost-effective treatment to replace missing teeth, dentures are a time-tested solution that has evolved over the years. Today, dentures fit more comfortably and look more like natural teeth than they ever have. We offer partial and full dentures to meet your specific smile restoration needs.
Dental Implants
Whether you've lost one tooth or all of them to neglect and decay, dental implants can enable you to speak clearly, smile confidently, and eat freely again. Offering the look, feel, and performance of natural teeth and a lifespan of decades, dental implants are the preferred tooth replacement option today.
Root Canals
If you have a tooth with an infection at the roots, you may not have to lose that tooth! While a conventional filling is inadequate to repair such a tooth, our team can often save it with a root canal. This is where we remove all the infected tissue from the tooth's pulp chamber, disinfect the area, then fill it with a special dental material. We'll often then put a new crown on the tooth to keep it strong for the long term.
Tooth Extractions
We always try to save a disease tooth, but sometimes it's not possible. When your tooth is beyond treatment, or you have an impacted wisdom tooth, extraction is often the best path to relief and health. We can provide both types of extraction. Wisdom teeth do not need to be replaced once removed.
Orthodontics
Getting your teeth aligned doesn't necessarily mean you have to settle for traditional metal braces. We can straighten your smile with customized clear aligners—Invisalign® or our own Sapphire Clear Smiles, which we create right here in our office. No one will even notice that you're undergoing orthodontic treatment, but they won't be able to miss the impressive end results!